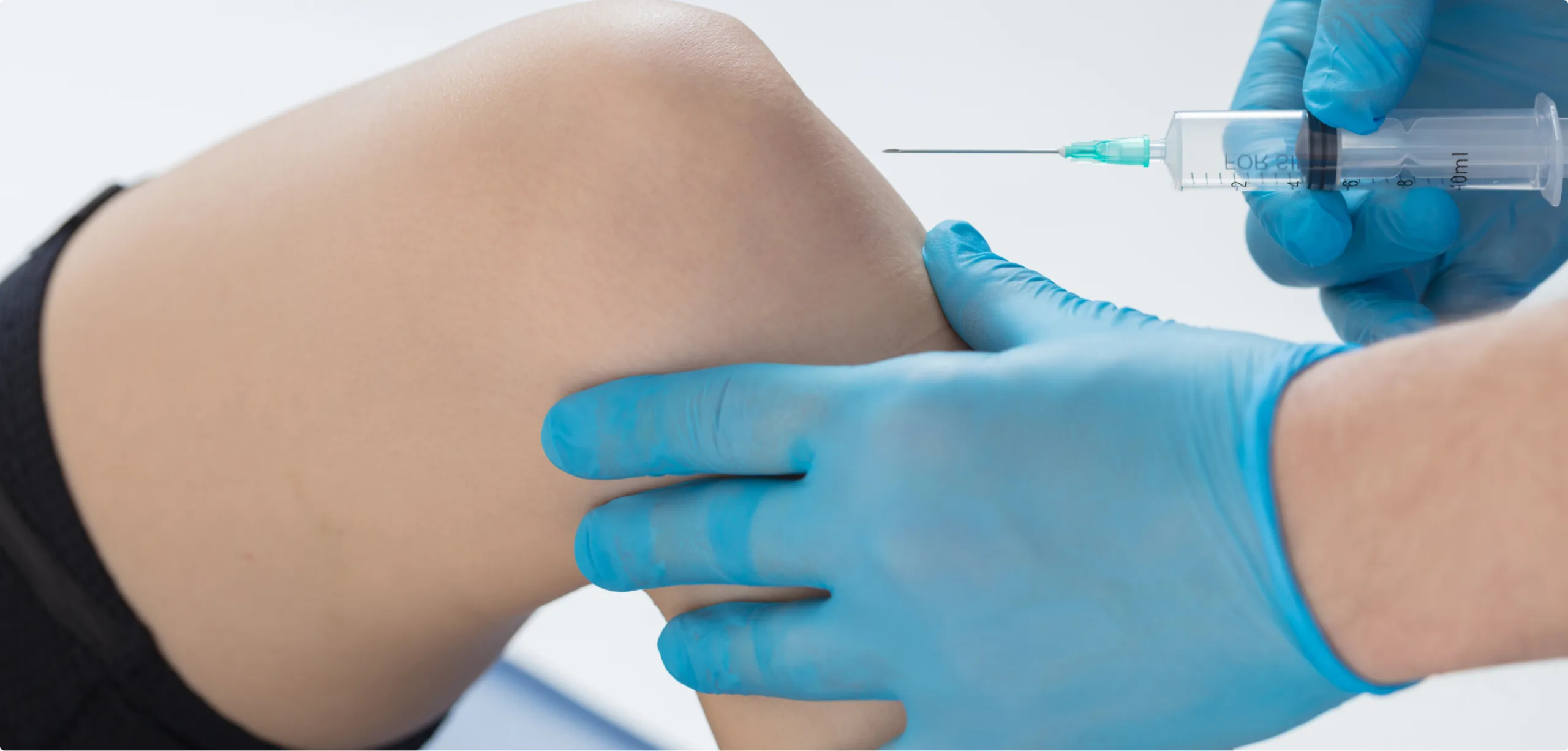 Joint injections
Joint Injections Explained
At Invicta we have a specialist physiotherapy service that enables us to perform joint injections on site. We use an ultrasound guided approach when necessary to ensure a safe, accurate and successful intervention to manage joint pain and inflammation. Our injection services include Corticosteroids, Hyaluronic Acid, Hydrodilitation, Ostenil®, Arthrosamid® and joint aspirations.
Why use Invicta
Our practitioners have a wealth of experience in NHS, private practice, and professional sports environments where referrals for joint injections are not uncommon to improve a patients pain, function, and quality of life. Joint injections are always clinically reasoned following accurate diagnosis and performed alongside effective physiotherapy as part of a comprehensive management plan.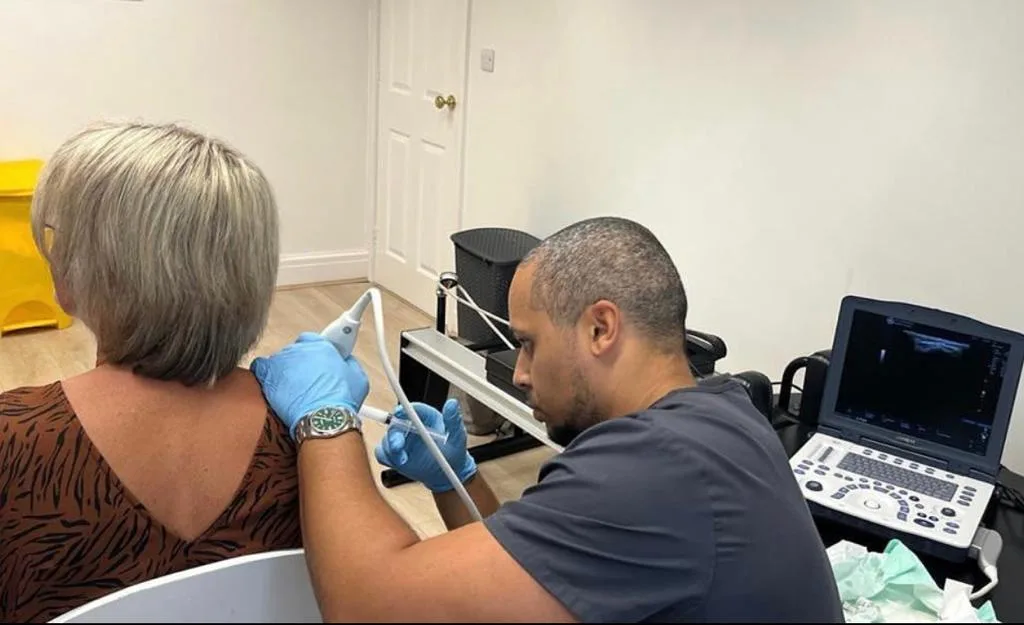 Joint Aspirations
It is common for acute and chronic joint injuries to be associated with a lot of swelling and pain which is often the case at the knee and ankle. Inflammation is a necessary bodily response to injury and healing but excessive and stubborn long standing amounts can be detrimental to function and long term joint health. Using ultrasound guidance we can inject a needle into the cavity of a joint and using a syringe can draw out any excessive effusion (swelling) sitting internally. This can range from 5ml to 150ml of fluid and is associated with an immediate improvement in pain and function when done alongside a corticosteroid injection.
Prices:
Joint Aspirations: £100.
Corticosteroids Injections
Steroids are a man-made version of hormones normally produced by the adrenal glands. When injected into a joint or muscle it reduces inflammation in the area. This can help relieve pain, swelling and stiffness. The effects of the steroid injection can take 48-72 hours to see results, however some patients will see results immediately. The effect of the injection can last 3-6 months with some lasting up to a year. ​ ​
Steroids are often used by people with inflammatory conditions and musculoskeletal pain, such as inflammatory arthritis and will be prescribed by a doctor or specialist. However, they can also be used in degenerative diseases such as osteoarthritis and a range of other soft tissue conditions associated with pain and inflammation. We use an ultrasound guided approach when necessary to ensure a safe, accurate and successful intervention to manage your condition.
Prices:
Ultrasound guided corticosteroid injection: £200.
Hyaluronic Acid Injections
Ostenil®️ Plus is a solution containing hyaluronic acid. It is injected into the space in the joint that contains synovial fluid and works by restoring the normal balance between the breakdown and production of hyaluronic acid. This create a healthier internal environment within the joint which can result in pain relief when conventional therapy is failing. The addition of Mannitol (a simple sugar derivative) to Ostenil®️ Plus allows the Hyaluronic Acid to work for longer and more efficiently in the joint, enabling effective symptom reduction with a single injection.
Ostenil®️ Plus has been extensively tested and has not been found to cause any serious side effects. The exact make-up of the hyaluronic acid in Ostenil®️ Plus has been carefully chosen so that it is as effective as possible in treating osteoarthritis.
Prices:
Ostenil®️ Plus Injection: £250
Steroid injection + Ostenil®️ Plus Injection: £325
Arthrosamid
Arthrosamid® is a new type of treatment for knee osteoarthritis that offers patients an effective alternative to the currently available therapies. Based on an innovative hydrogel technology, Arthrosamid® is 2.5% cross-linked polyacrylamide and 97.5% water. When injected into the knee, it integrates into the synovial lining of the joint, restoring viscosity within the synovial fluid, lubricating, and cushioning the joint. This has been shown to be effective at reducing pain and improving joint function. This treatment is a non-biodegradable single-dose injection that delivers safe, long-acting, and sustained pain relief, improving the quality of life for patients with knee osteoarthritis. Arthrosamid® is at the forefront of injectable management options for osteoarthritis.
Price:
Arthrosamid® injection: £2500
Hydrodilitation for Frozen Shoulder (Adhesive Capsulitis)
Hydrodilitation is a procedure that involves injecting the joint capsule of the shoulder with local anaesthetic, sterile saline solution, and corticosteroid. The procedure is performed under ultrasound guidance to ensure that the injection is accurately placed within the shoulder joint. The aim of hydrodilitation is to improve range of movement and decrease the pain associated with this condition.
Adhesive capsulitis is often slow to resolve and highly irritable for those patients who suffer from it. A hydrodilitation injection combined with intensive physiotherapy can result in improved recovery timelines and a restoration of function. Nationally, there is a success rate of over 70% in improving shoulder movement and over 90% in improving pain.
Price:
Hydrodilitation with Corticosteroid Injection: £300.
Take Note
At Invicta we aim to improve your symptoms and function through quality assessment, treatment, rehabilitation, and injury management advice. We only make referrals for adjunct injections if this is clinically reasoned, and other conventional management approaches are unsuccessful. To see if you would benefit from any of the above injections you will need to book a face-to-face or telephone consultation with one of our experienced physiotherapists. As a result, you cannot directly book an appointment for an injection. If you want to speak to us about a joint injection or have questions regarding your management, please contact us here.
GET IN TOUCH
We would love to hear from you
Complete our contact form or use the contact methods below and we will be in touch as soon as we can.